Tracking Raincoast into 2016
2016 marks the 20th anniversary of the Raincoast Conservation Foundation
Over the past two dec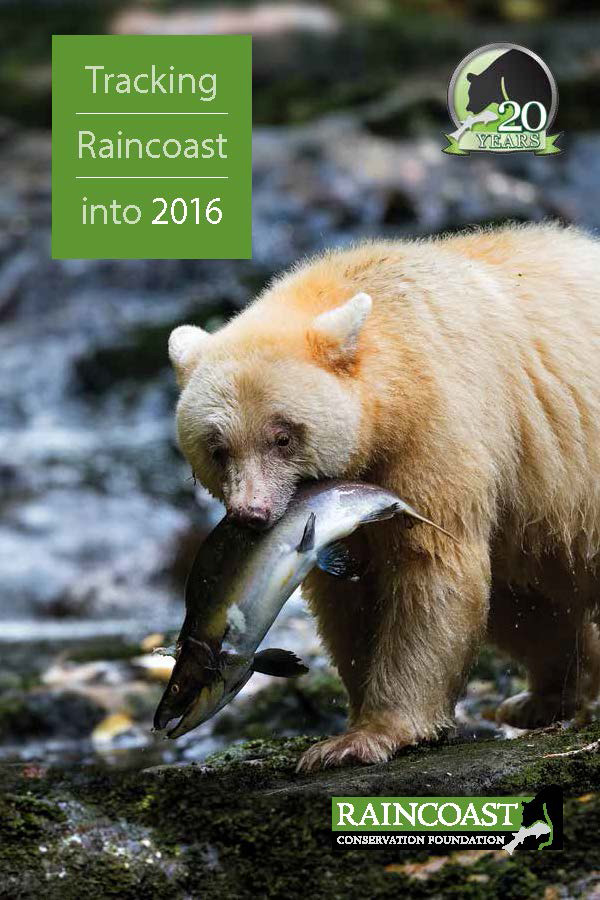 ades, Raincoast has delivered on our mission to protect the land, waters, and wildlife of coastal British Columbia. We have produced more than a hundred peer-reviewed journal articles and dozens of reports, which we use to hold government and industry accountable, influence policy, and argue precedent setting legal victories. Our documentaries, popular articles, widespread media coverage, and community events have informed millions in Canada and around the world. This awareness has inspired tangible conservation progress for killer whales, salmon, wolves, grizzly bears, and all of the wildlife that help define Canada's Pacific Coast.
This holiday season, while celebrating these achievements, we ask you to reflect on the wildlife that need our help, and put your gratitude and concern into action for three iconic species: the grizzly bear, the wolf, and the killer whale.
Please take action by making a donation today.
With gratitude on behalf of the Raincoast team,
Chris Genovali,
Executive Director
Become a Raincoaster
Giving to Raincoast enables you to protect what you love most.
For 25 years, Raincoast has been furthering biodiversity conservation in BC. Thanks to your generous donations, among many other accomplishments, we have been able to end commercial trophy hunting of large carnivores in over 38,000 square kilometers of the Great Bear Rainforest, begin acquiring forest land in order to protect threatened Coastal Douglas-fir ecosystems, aid recovery of endangered Southern Resident killer whales by restoring Chinook salmon habitat, and establish a university research lab dedicated to applied conservation science. Strong partnerships are integral to our success.
Our efforts need to be maintained and advanced, now more than ever. As the biodiversity and climate crises collide, your support allows us to continue to make tangible conservation gains.
Biodiversity protection is the most important gift we can give the next generation. Join us as a Raincoaster today!