It's Oil or Orcas
Southern Resident killer whales threatened by increased tanker traffic
by Judith Lavoie, The Tyee
To view this story with photos and links, visit the Tyee's website
Under the waves of Haro Strait, hydrophones record the noise made by passing vessels and, if you happen to be a whale, the din is already disorienting and disturbing, making it difficult to echo-locate food or communicate with other members of the pod.
"It's a thunder. Thump, thump, thump, accompanied by squeals and engine noise. It's like being under the hood of a hot-rod," said Howard Garrett, president of Orca Network, the Washington State group that tracks the comings and goings of the 80 remaining members of the endangered southern resident killer whales.
All recent studies of the resident pods have identified marine noise around the Strait of Georgia and Juan de Fuca Strait as one of the stressors threatening their survival, in addition to lack of Chinook salmon — the whales' favourite prey — contaminants accumulating in their blubber and degradation of their critical habitat.
Now, with federal approval of Kinder Morgan's Trans Mountain pipeline expansion, the situation for the whales is about to get much worse and experts are predicting that the fragile population, which spends about six months a year in the Salish Sea, will not be able to survive the onslaught of tankers.
The number of tankers travelling from the pipeline terminal in Burnaby through Burrard Inlet, around the Gulf Islands and into Juan de Fuca Strait will increase from about five a month to about 34 a month and, while the increased chance of an oil spill is stomach-churning for marine scientists, the damage from increased tanker noise is equally alarming.
"We don't need to have an oil spill to have significant adverse effects — and no one is disputing that, not the National Energy Board, not Kinder Morgan and not federal scientists," said Misty MacDuffee,a Raincoast Conservation Foundation biologist.
To a whale, it does not matter whether a tanker is empty or laden, meaning the animals will have to deal with a 700 per cent increase, made up of more than 800 inbound and outbound tanker trips every year, MacDuffee said.
Two years ago Raincoast called together top scientists with specialties in endangered populations and acoustics to do an analysis of the viability of the three pods of whales and the conclusion was that the population was on a precipice and could go either way, MacDuffee said.
"They said they cannot endure any more of these stressors."
The whales are already in the presence of some kind of vessel, ranging from small boats to ferries and tankers, for 85 per cent of the time and, with the additional tankers, they will be in the presence of a vessel 100 per cent of the time, MacDuffee said.
Sound travels four times faster in the water than in the air and it will diminish the ability of the whales to locate their food, which is already in short supply.
"They use echolocation when they are feeding, so they are sending out little clicks and chirps to find individual fish and estimate the size of it and where it is in the water column and then communicate with the pod on how to catch it," MacDuffee said.
"Our research shows a decrease in efficiency in the presence of vessels, so that translates into less food," she said.
Insufficient food is believed to have been one of the elements in the latest death among the whales. J28 died in October and it is believed her 10-month-old calf has also died, unable to survive without his mother's milk to supplement his catch.
"Poor, poor whales. They are just surrounded and bombarded on all sides," said whale researcher Paul Spong of a whale research station on Hanson Island, off northern Vancouver Island.
"It's oil or orcas — take your pick… I think the risks are too great."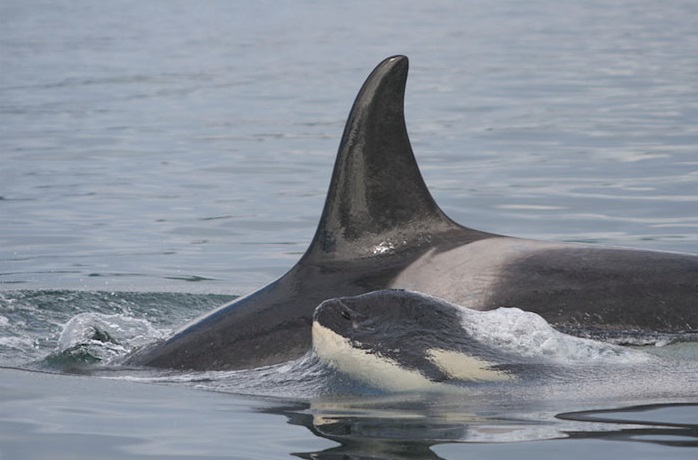 The possibility of a spill is the biggest threat and, as seen in Alaska after the Exxon Valdez spill, that would be disastrous, but noise will also affect their survival, Spong said.
Already, regulations are needed to restrict whale watching vessels and the noise levels of ships, but the government has ignored recommended amendments to marine mammal regulations, Spong said, suggesting one of the first moves should be to severely restrict the speed of vessels travelling through the area.
"The whales are having a difficult time finding food to eat and now, if you shave a little bit more away from them, you are having a big impact on their ability to survive," he said.
Spong shrugged off a claim by Fisheries Minister Dominic LeBlanc that there would be only a one per cent increase in the noise level and said that was simply an acknowledgement that there would be an impact.
LeBlanc, in an interview with CBC Radio, said initially there might be a one per cent increase in noise, but a critical piece of getting the project right, is to ensure there is no increase in noise.
The whales are under pressure from lack of prey and coming into contact with ships of all sorts, so the Department of Fisheries and Oceans has put together an action plan under the Species at Risk Act, LeBlanc told CBC.
"We're going to do a lot more to protect that whale population and, in fact, you'll have a very comprehensive action plan in the new year based on 11,000 public suggestions," he said.
Kinder Morgan Approval Insults Democracy, Science and Economic Logic
The NEB found that there would be "significant adverse effects" on the southern resident killer whales from the additional tankers, but, as echoed by the Liberal government, suggested they could be mitigated.
In answer to questions from DeSmog Canada, a spokesman for Fisheries and Oceans Canada said DFO recognizes the need to address the cumulative effect of all marine traffic in the area.
Before any shipping from the Trans Mountain pipeline expansion project begins, the government will work to reduce impacts on southern resident killer whales in four areas, he said in an emailed statement.
Those include reducing cumulative noise from marine traffic with both voluntary and mandatory strategies, reducing chemical and biological pollutants, improving food supply by restoring coastal salmon habitat and new research to establish baselines.
"The objective is to more than mitigate for the impact of additional Trans Mountain marine traffic before the project begins operations," the statement reads.
As part of the 157 binding conditions placed on the Kinder Morgan pipeline's approval, the proponent will be required to develop a marine mammal protection program and support the measures identified in the Southern Resident Killer Whale Action Plan.
Also, the recently announced $1.5-billion investment in the Oceans Protection Plan will help address the cumulative effects of shipping on marine mammals, according to the statement.
However, MacDuffee said, although ship noise can be reduced, there are currently no requirements to make engines and propellers quiet. She added it would take years to bring in legislation for new ships and to insist older ships are retrofitted.
The fight is likely to continue in the courts as Raincoast and the Living Oceans Society have already applied for a judicial review of the NEB's report recommending approval of the pipeline expansion, saying the NEB failed to apply the Species At Risk Act.
The organization is now looking at the possibility of a second legal action.
Opponents on both sides of the border are vowing to battle the federal government's decision and Garrett said there may be lessons from Washington State where the Cherry Point coal export terminal was stopped because of tribal and public opposition and litigation.
Are you looking for a way to make change?
You can help us. We would love for you to help us.
Protect bears, wolves, and cougars in the Great Bear Rainforest
Donations, no matter the size, take us one step closer to protecting bears, wolves and other carnivores. Help us stop commercial trophy hunting in more than a quarter of the Great Bear Rainforest.